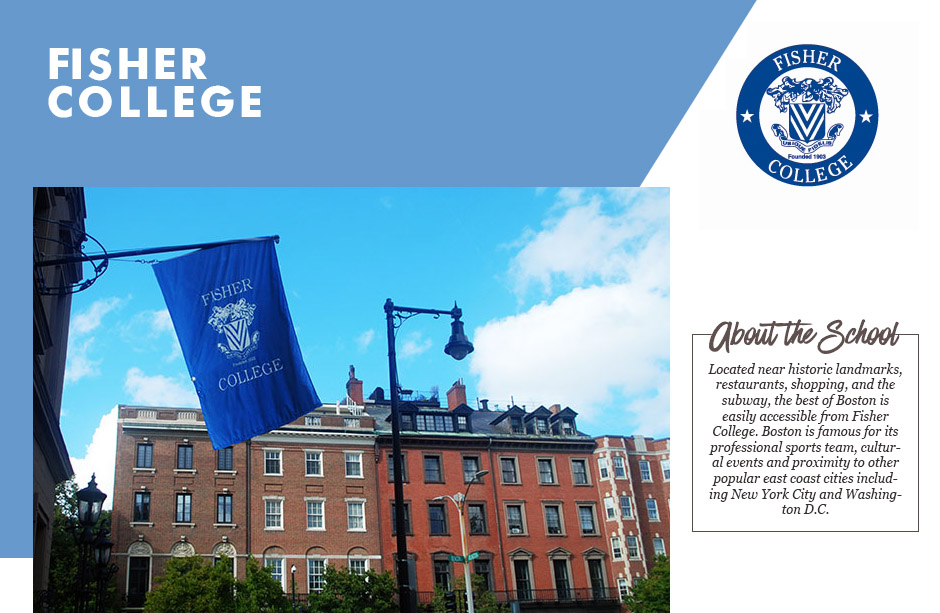 Fisher is an accredited four-year college located in Boston's historic Back Bay with locations in Boston, Brockton, New Bedford, and North Attleboro. The College provides affordable, real-world educations that prepare students to achieve their career goals and compete in today's challenging economy. Founded in 1903, Fisher College is an independent, non-profit educational institution approved by The Board of Higher Education of the Commonwealth of Massachusetts and authorized to grant the degrees of Bachelor of Arts, Bachelor of Science, Associate in Science, Associate in Arts, and various certificates.
Highlights:
An exclusive academic scholarship of $3,000 and a housing discount of $2,000 are available for students who apply to the International Student MBA. Earn your MBA in less than 12 months!
Programs:
Undergraduate degrees in Accounting, Advertising Biology, Hospitality & Event Planning, Human Resource Management, Journalism, Marketing, Pyschology, Public Relations, Sports Management and Video Production.
Graduate degree in Business Administration