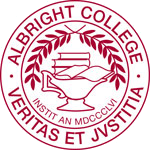 No matter where you are in your educational and life journey, chances are that Albright College has a degree program to fit your interests.
Extremely flexible curriculum.
Nearly 50% of students graduate with combined interdisciplinary or multiple majors.
Included in Barron's Best Buys in College Education.
Very strong and innovative in the sciences.
Created the first undergraduate psychobiology program in the nationDeveloped the first biochemistry undergraduate program in the Middle States region.
Environmental Studies was among the first of its kind in the US.
Degrees Offered
Bachelor of Arts, Bachelor of Science, Masters in Education, 50% of students graduate with combined, interdisciplinary or multiple majors
Programs of Study
Accounting, American Civilization, Art, Biochemistry, Biology, Business Administration, Chemistry, Child & Family Studies, Communications, Computer Science, Crime & Justice, Digital Media, Economics, Education, English, Environmental Science, Environmental Studies, Fashion Merchandising & Design, French, History, Information Systems, Latin American Studies, Mathematics, Music, Optics, Philosophy, Physics, Political Science, Psychology, Psychobiology, Religious Studies, Sociology, Spanish, Theatre, Women's Studies, Pre-Dentistry, Pre-Law, Pre-Medicine, Pre-Veterinary Science
Requirements for Direct Admission into an Associate or Bachelor Degree Program
You must be at least 17 years of age or older.
You must be a non-U.S. Citizen with permanent residence outside the United States.
You must have successfully completed the equivalent of a U.S. secondary education.
You must possess a high school diploma or graduation certificate.
You must have achieved a minimal 2.0 Grade Point Average (on a 4.0 scale).
You must provide an official TOEFL or IELTS score that indicates an English proficiency of iBT 61 to iBT 79. (University English proficiency requirements vary but are never lower than iBT 61 for direct admission.)